Line manager upside:
– The idea for Kitecleat first came while practicing in cramped areas and on boats where the limited space made untangling of lines very difficult.
– Not only is it helpful in tight spots but also in cold conditions, high tide, tall grass, pebbles or snow, as well as helping to avoid dangerous mistakes and oversights.
– As the number and density of kiters rises, the line manager becomes an efficient and space saving tool for beginner to advanced riders alike.

Line cutter (optional) downside:
– Very few are trained to properly use a kite knife leading to lost or rusted knives, which can be a bad surprise at the wrong time.
– The incorporated ceramic blade doesn't rust and, since the Kitecleat floats, is less easy to lose.
– It is also more manageable in emergencies with quick, one-handed cuts of your own or even other riders lines, if necessary.
So why not designing a comfort & security accessory turning it in a navigation helpmate that you will use every session and then be quickly able to grasp it eyes closed ?
Kitecleat could so be the most reliable, durable (optional incorporated ceramic blade) and floating kitesurf knife boosting your own and others around safety.
Design:
– Focused on maneuverability and security.
– Very quick single hand use thanks to the return spring.
– Allows for easy inspection to prevent line crossing or oversight connection (a known cause for accidents) prior to release from Kitecleat.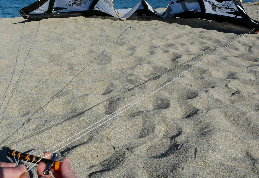 To resume, Kitecleat is a reliable and durable piece of equipment to make kiting easier and safer for you and others. No hurry, just efficiency!
Please click here to see how to use section with all details.
Little story: Never had the chance to live by the sea, the concept came to me by practicing this sport mainly in snowkiting, in lakes and from sailboats (rented because I don't have the chance to either own one! 🙂 ). And in fact… If I have now distributed more than 6000, it's because it's faster everywhere, space or not space to extend your lines, with gloves or without!